Mission
Statement


PARTICIPANTS

First Byte Software Inc., and it's sister company, Emanation Press, have made a commitment to participate in the Quest for Tomorrow project, and look forward to achieving effective and successful results by way of this collaboration.

Initially, we will create a web portal for the QFT series that will provide advance promotion for QFT, a weblog for the activities taking place during the production of each episode, public access to background material related to the QFT theme, and interactive content access for the public to expand on the subject matter and issues covered in the productions.

During the production of each episode, we would provide a photographer to document the material covered in the episode, and maintain a journal to develop narrative material which would be used, along with the photographs, to publish a companion eBOOK that would be made available when the documentary is released.

We are confident that this triple-media approach of providing a video documentary, internet eBOOK (as well as a printed version), and online website will create a unique multimedia result that will have broad public appeal and will create cross-media interest that will bring the issues explored in Quest for Tomorrow to the widest possible audience, both in Canada and around the globe.
---
The Media Group Inc. is a Canadian broadcasting, marketing and development company dedicated to bridging corporate culture and opportunity sourced among well-funded mature companies in the communications, entertainment, sports and hospitality industries. The Media Group Inc. has developed a business plan, which has been researched for over 1 year, that is centred in Toronto, Canada, which is the World's Most Culturally Diverse City – where 172 languages are spoken each day and over 60% of the population is a visible minority.
---
Lorne Gould, President and founder of First Byte Software Inc. and Emanation Press. He has traveled extensively across Europe and Asia, and visited many of the sites covered in the QFT series. He has designed and hosted many websites that promoted several types of Alternative Healing, including Crystal Healing, Bach Flower Remedies, Rebirthing and others. Since he has visited almost 40 countries, and spent almost one year in South Asia, he has considerable experience with other cultures. He has photo graphed and written about both his travels and his spiritual healing interests, and has published a book about his lifelong quest, "Breaking Ice in the Desert".

Manuel Canales, Chief Media Strategist Mr. Canales is the co-founder of The Media Group Inc., a Canadian private corporation that holds several subsidiary marketing and development companies and that is dedicated to bridging corporate culture and opportunity sourced among well-funded mature companies in the communications industry. Manuel has been involved in the broadcast and communications industry for over 25 years, first as a producer in his native Chile, and later in various facets of the radio, TV business in Canada and the USA.

Rosita Stone, of Mexican-Russian background, is a recording artist, producer, composer, arranger, choreographer, motorcycle instructor and alternative medicine practitioner with a deep love of the mystic, unseen worlds and healing arts. Rosita is the winner of the 2006 "Singer of the Year" award for the Latin American Achievement Awards (Premios Somos), and has a distribution deal with Universal Music Group in Latin America. Rosita is now expanding her work to include traveling the world as the spokesperson/artist and emissary of the Lugar de Los Angeles foundation to help the poor and underprivileged people of the planet. Rosita has lived in many different countries and has travelled extensively in many esoteric places like Egypt. She has studied different cultures and beliefs from ancient traditions all over the globe.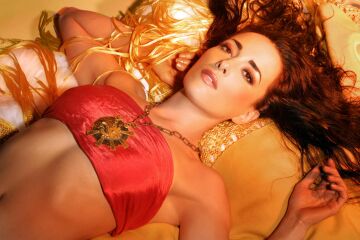 Home